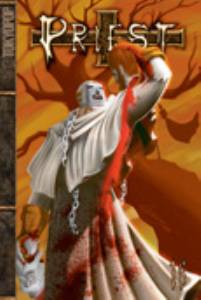 Priest Vol 16 is written by Hyung Min-woo and was released by Tokyo Pop.
As the deadly massacre by the Order of St. Vertinez rushes on in extreme fury, Dudley charges all villagers to defend Windtale with their lives. But is it already too late for them to escape the wrath of the Order? Vengeance may taste sweet, but it will be Coburn who must take a sip if the residents of Windtale are to escape with their lives...and souls.
External Links
Edit
Ad blocker interference detected!
Wikia is a free-to-use site that makes money from advertising. We have a modified experience for viewers using ad blockers

Wikia is not accessible if you've made further modifications. Remove the custom ad blocker rule(s) and the page will load as expected.