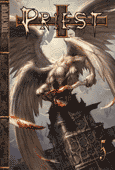 Priest: Volume 5 (192 pages) is written by Hyung Min-woo and was released by Tokyo Pop in March 2003.
Vascar De Guillon was once willing to give his life for the cross serving as a knight in the crusades. His faith was shattered after he lost his wife and children to plague. Consumed by rage, he made a pact with the fallen archangel Temozarela, becoming his agent in the mortal world and slaughtering countless innocents. When De Guillon is brought to trial for his sins, the church sends their top priest to serve as prosecutor - Belial Gabarre. The prosecutor finds himself the defendant when De Guillon uses any means at his unholy disposal in his attempt to corrupt Belial's faith.
External Links
Edit
Ad blocker interference detected!
Wikia is a free-to-use site that makes money from advertising. We have a modified experience for viewers using ad blockers

Wikia is not accessible if you've made further modifications. Remove the custom ad blocker rule(s) and the page will load as expected.