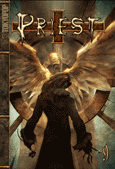 Priest Vol 9 is written by Hyung Min-woo and was released by Tokyo Pop.
Ivan Isaacs continues his bloody march toward a showdown with Akmode. Under Akmode's panoptic gaze and influence, the townspeople have turned into walking zombies feasting on one another's bodies. After fighting through an army of deformed creatures, Ivan finally stands face to face with Akmode ...
External Links
Edit
Ad blocker interference detected!
Wikia is a free-to-use site that makes money from advertising. We have a modified experience for viewers using ad blockers

Wikia is not accessible if you've made further modifications. Remove the custom ad blocker rule(s) and the page will load as expected.