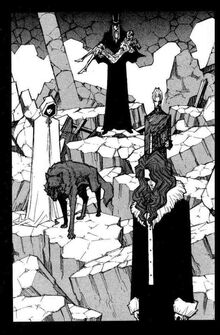 The Thirteen angels are a group of fallen angels that rebelled against God, they are led by Temozarela.
After the war against Lucifer, God lost faith in the angels and prefer humanity, this caused the arch-angel Temozarela to be furious, he took twelve sympathetic angels to Earth to prove to God how flawed humans are. To do this he set up a cult to him and his angels which involved human sacrifice. This only angered God and caused Temozarela to be banished to earth and imprisoned in the statues that humanity worshiped.
Ad blocker interference detected!
Wikia is a free-to-use site that makes money from advertising. We have a modified experience for viewers using ad blockers

Wikia is not accessible if you've made further modifications. Remove the custom ad blocker rule(s) and the page will load as expected.